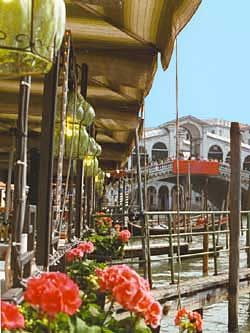 hover over a little picture to enlarge

Rialto Bridge
This is the city's oldest trading place. The shops along this bridge are selling things as jewellery, linens and Murano glass (and many kitsch!). Alongside the Grand Canal near the Rialto Bridge there is a fruit and vegetable market in traditional stalls and also a fish market and a meat market.


General
The main shopping areas are at the Mercerie (leading for the St. Mark's Square to the Rialto Bridge) and the Frezzeria (between La Fenice and St. Mark's Square). There are countless number of small boutiques (jewellery, clothes, music, arts, food) scattered around and between the alleys. At the Calle Larga XXII Marzo are the more exclusive shops like Prada, Fendi, Gucci and Versace.

Glass and lace


Murano is the place to go for glass and Burano is the place for lace (regular vaporetto lines bring you there in 30 minutes). Both are famous and both are exquisite and the prices are still quite high. Also around and on the St. Mark's Square you buy these.
http://www.barovier.com (website of Barovier & Toso, with an on-line shop).

Masks
Masks for Carnival are selling in every moment of the year. There are mask shops around every corner. Some are very skillfully made masks, but also a lot of junk. The masks from the movie "Eyes Wide Shut" were made at the shop that offers authentic masks, La Bottega dei Mascareri.
http://www.tragicomica.it (they make and hire out masks and costumes and you even can attend a maskmaking workshop).